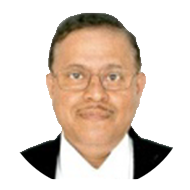 Gopalakrishna was a career Central Banker and worked in
Reserve Bank of India (RBI)
for 34 years and later he was Director,
CAFRAL
(Promoted by RBI) for three years till April 2017.
Gopalakrishna was Executive Director, RBI from 2007 to 2014 and overseen many of the Departments of RBI viz. Department of Banking Supervision, Dept. of Non-Banking Supervision, Foreign Exchange Dept., Dept. of Information Technology, Dept. of Payment and Settlement Systems, Financial Stability Unit, etc. He was also Executive Director, DICGC.
Presently Gopalakrishna is Independent Director on few financial institutions, companies, etc. and he is also advising few academic institutions.
Pradeep Godbole is a Chartered Accountant with 30+ years of Banking & Financial Services, Business & Technology Consulting, Auditing, Accounting and Management experience. Pradeep is Director on the Board of Directors of South Indian Bank – one of the leading private sector banks in India. He has held senior management positions at Big 4 consulting firm – Ernst & Young, IT organizations – Oracle Financial Services Software & Wipro and Banks – Deutsche Bank. He has executed large risk management & compliance, business and technology projects for top tier BFS organizations across the world.
Since his retirement, Pradeep has been working on capability building initiatives and is a guest faculty at The Institute of Chartered Accountants of India (ICAI). Pradeep is also speaker at professional events & seminars.